Probably One Of The Most Important Parts Of The Garage Door Are The Garage Door Springs.
The garage door springs are large metal coiled items that are typically located above the garage door an a long metal tube. The springs are under a tremendous high tension. These springs provide the counter balance to the weight of your garage door so that the door can be easily lifted. Take a look at some more information on garage door springs.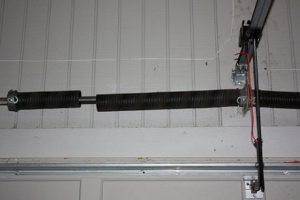 How Long Do Garage Door Springs Last?
If the springs are properly engineered to the door, the springs should last for 5-10 years or more. When the door is used the springs will wear and weaken over time and will eventually break This is when you need to call an experienced garage door company. Covenant Garage Doors has the experience and knowledge to replace your springs correctly the first time.