Covenant Garage Doors Is A Leading 
Company With A Reputation For Superb Service In Woodstock.
We ensure your garage door is fixed or installed correctly the first time.
Investing in top quality products for your residence or company is important. Replacing fixing or installing a brand new door or opener may be a large investment. It's important to look for a company that can provide top notch service at a great price.

We specialize in garage door opener installation,repair, and replacement. You won't have to be concerned about faulty setups or repeat problems with your overhead door because we're very selective about who we hire to perform and offer service. The job, whether it be a repair or replacement, is completed correctly the very first time around.   
Here are just a few Google reviews from the past 12 months:
Scott Wykoff

"Nothing short of truly outstanding. Great communication. Prompt. Honest. Respectful. Did an outstanding job for a very fair price. What more could you possibly ask for? It's a shame more businesses today are not like this one. Highly recommend. Would never consider using anyone else. A++++++."

Brad Lannom

"This is my first time repairing my garage door and Mace did not disappointment. His service was fast, efficent, and professional. I called late in the evening and Mace was ready to get me taken care of the next day. He replaced the spring on my garage door as well as some other servicing and it is running as good as new! I would absolutely recommend and will be using Covenant moving forward."
Call us for an appointment today: (770) 720-7828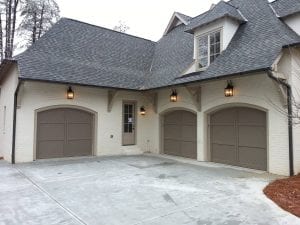 When our company's employees show up to service your door, they come equipped with the components necessary for repair. We can service most major brands. Garage doors are much like machines. They have several components that need to be in working order. If any of these components break down, whether it be a door spring replacement or a new opener, it will affect the performance and functionality of your door. Our technicians will have a look and give you a free estimate of the cost of service.
Covenant Garage Doors also supplies warranties on services rendered so there is a guarantee the job will be done well and in a timely fashion.
If you are in need of a new opener, we can help you determine which of the various door openers will work best for your wants, obviously, there are many options available. Also, one of the very common accessories that homeowners are contemplating is an external wireless opener. This is really a small device that mounts to the outside of the garage door, on the wood framing of the door opening. Talk with the technician to understand if this option would be a good fit for your home.
If you would like to improve the look or just need to replace your garage doors, you can choose from many styles to suit your budget and design needs. A tech will give a complimentary estimate before ordering new doors. We work with the best manufacturers and there is a wide variety of styles and designs, so you can select the best one to fit your house and home. There are basic metal doors, metal insulated doors, alloy insulated (triple layer construction), Alloy carriage doors and custom wood carriage doors.
No matter which kind of door you desire or whether you need a new opener or just a repair, Covenant Garage Doors has the expertise and experience of over 25 years of excellence in service.

We offer the best garage door repair in Woodstock, Ga, and surrounding areas.