Investing in top quality products for your home or business is important.  Repairing, replacing or installing a new garage door can be a big investment. It's important to search for a company in garage door repair that can deliver top notch service at a great price. Make sure you do your research and find a leading company that has a reputation for excellent service.
Covenant Garage Doors specializes in garage door repair, garage door opener installation, and garage door replacement. You won't have to worry about faulty installations or repeat issues with your garage door because we are incredibly selective about who we hire to perform and provide service.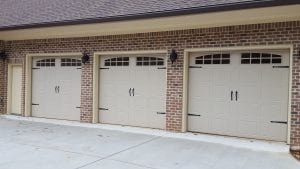 Service and repair is dealt with extra care so the job is completed correctly the first time around. This way we ensure the customer saves both time and money. Covenant Garage Doors also provides warranties on services rendered so there is a guarantee the job will be done right. We understand that a garage door has many moving parts. If any of those parts break down, there may also be problems with other parts of the machine. When the company's employees show up to service a garage door, they come equipped with the parts needed for repair. They can service most major brands. One of the most important parts of the garage door are the garage door springs. Technicians will take a look at the springs and see if a garage door spring replacement is needed.
Customers looking to replace a garage door can choose from many styles to suit their budget and design needs.  A technician will provide a free estimate before ordering any doors. There are basic metal doors, metal insulated doors, metal insulated (triple layer construction), metal carriage doors and custom wood carriage doors.
No matter what type of garage door you desire, Covenant Garage Doors is here to help. You can call us at 770-720-7828 or fill out our online form on their website to schedule an appointment. Don't settle for less than the best! Visit our main site at https://www.covenantgaragedoors.com today and experience the difference in quality and service at competitive prices.
Covenant Garage Doors, with more than 20 years in business and over 35 years of experience, is your garage door repair and garage door servicing specialists! We provide garage door repair in the greater Atlanta Metro area.