Have you ever lubricated your garage door? If your answer is "No", then you are not alone. Most people that I see on a daily basis have never lubricated their garage door. This can cover a span of 10 to 15 to 20 years. When asked why, the most common response that I hear is "Well, I never thought about it."
Most of the garage door problems that I see when doing service calls is part failure to not being lubricated. Most of the mechanisms on a garage door are simple, hinges and rollers. The hinges hold the door sections together and only rotate at most 90 degrees as the door opens and transitions thru the track radius. Rollers are what enable the door to do this transition and open. There are other parts of the garage door that contain bearings, but these are not accessible to the general homeowner and should only be serviced by a qualified technician. I will discuss this a little later. Simply lubricating the rollers and hinges is one thing that the homeowner can do to greatly extend the life of your garage door and garage door opener.
Given this, the simple thing that a homeowner can do is lubricate their door. What types of lubricant can be used? Use a silicone or Teflon spray ONLY. DO NOT use grease, oil,lithium or WD 40.
Grease and Lithium are thick type lubricants and are designed to be applied manually to flat or almost flat friction surfaces. Grease and Lithium can also attract dirt which can work its way into the mechanisms and cause wear.
Oil is a great lubricant however, it is designed to be poured into sealed container environments where gear assemblies exist. Examples of this would be automobile engines, transmissions, rear differential assemblies.
WD 40 believe it not is a cleaner and is not recommended for perminate lubrication. It actually stands for, "Water Displacement, 40th formula" and was originally designed to prevent corrosion on nuclear missiles.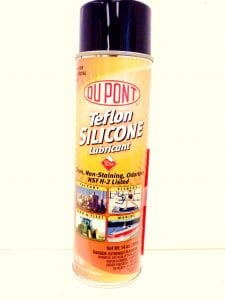 This leaves Teflon or Silicone spray. Both of these are sprayed onto the rollers inside the track and on the hinges across the door. The spray works it's way into the rollers and hinges and enables smooth operation, minimizes friction, and frees the door up to operate. We recommend lubricating your garage door twice a year. This simple lubrication by the homeowner can greatly extend the life of the garage door and garage door opener.
A detailed and extensive service and tune up of your garage door is recommended yearly. To have this done, call Covenant Garage Doors at 770-720-7828 or visit our web site at www.covenantgaragedoors.com.